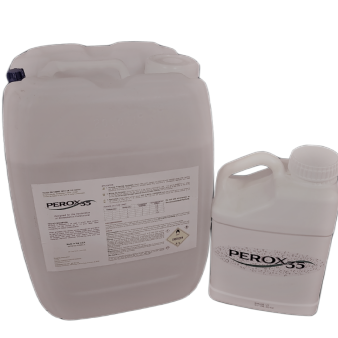 Click image above to enlarge for detailed viewing.
Move your cursor over the
smaller images to view as main image
FREE SHIPPING limited time only - Normally shipping is $100 including a $50.00 Hazmat fee.
Get yours FREE NOW!
You get 5 gallons of 35% hydrogen peroxide and a 1 gallon container of activator in powder form. Mix the 5 gallons of 35% HP with 15-25 gallons of water in a 55 gallon drum and mix well. When ready, remove the amount of liquid mix you'll need for the day and add the appropriate amount of activator and mix well. Now it is ready to clean grease, conrete, pavers, wood & vinyl fences, ashpalt and cedar shake shingles. It is 100% environmentally friendly.
Coverage is typically 200-400 square feet per gallon.
* Call for Contractor pricing or a distributor near you!